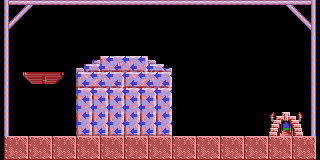 Other versions
DOS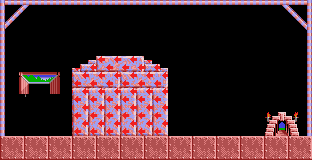 ---
Tribute to M.C.Escher is the eighteenth level of the Taxing difficulty in Lemmings.
A somewhat easy level for this difficulty. Just like before, the main problem is the one-way stone structure on the right.
Have a Builder make a staircase starting from the very side of the one-way stone structure. When the ramp gets long enough, make one Bomber which destroys the bottom of the ramp, therefore no Lemmings can follow (no Blockers here).
When the Builder reaches the top, make him a Floater so he'll survive the drop. You must turn him around - there is no other way than to build a ramp above the exit until the right level wall. When you've managed this, all that is left a Basher skill thru the one-way stone, and a Bomber skill on the ramp at the exit. 97% saved!
---