Other versions
DOS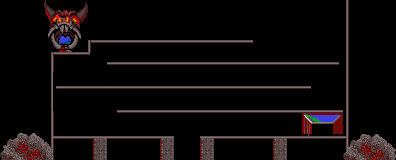 ---
King of the castle is the twenty-third level of the Taxing difficulty in Lemmings.
This Deja vu level's solution is no different than the identical level (Lemming sanctuary in sight). You must utilize Builders to cover the gaps. Only this time - there are no Blockers to help you out. You are allowed to lose 4 Lemming, but not more.
Use 5 Builders at the gap with the hot molten lava. When one of them Lemmings turns around, start building the ramp to the second floor. Watch out for Lemmings approaching to the hot molten lava from the other side! Apply Builders here as well. You shall probably lose the 4 Lemmings here, but them's the breaks.
Use 3 Builders to get to the third floor, then 4 Builders to get to the fourth (you can do it with 3 Builders only, but it's extremely difficult). Finally, you should have 4 or 3 Builder skills left to reach the top, and allow your Lemmings to exit. You need to calculate the trajectories carefully, as using up more Builders will make your stock run dry and thus fail the level.
---